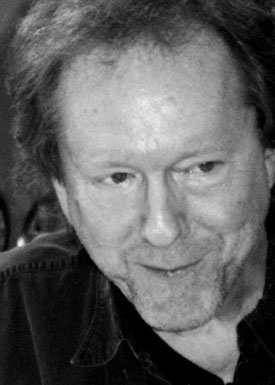 By Jack Rentfro (UTK - 1981)
Carl Sublett: Godfather of the Punks
Modest painter, professor leaves DIY legacy




Night time on the long drive back fromNashville: One by one, the car headlights turned off, their drivers digging the beauty of the full moon flaring down on the forested, mountain panorama of the Cumberland Plateau.
The motorcade of old station wagons loaded with art for exhibitions in the capital had no need for artificial illumination. They were the Knoxville Seven (some of them, anyway), a group of progressive artists, staging one of their hit-and-run excursions, using their own resources to drag Knoxville into the light of the modern era of art. Building on a long tradition of Appalachian do-it-yourself spirit, they also set a precedent for today's generation of guerrilla artists, flouting authority, hanging art in alleys and staging absurd theater in vacant buildings.
It was the early '60s. Like the beatniks and hippies yet to come; like the punks of the '80s; and like today's cynical, street-wise postmoderns, the Seven did not suffer the status quo humbly. They were abstract expressionists in the South, after all. In 1963, around the same time as the stunt on the road to Nashville, Walter "Holly" Stevens threw together an assortment of debris to display at the upcoming Dogwood Arts Festival, an act which outraged the local press. It was part of the Seven's protest against the complacency reinforced by Look Magazine naming Knoxville an "All-American" city that year.
Stevens died in 1980. Already gone four years was Kermit C. "Buck" Ewing, whose theatrical style of raising money for the impoverished University of Tennessee Fine Arts Department he headed was the catalyst for the short-lived group. Early this year saw the passing of another nuclear member of this dwindling crew when Carl Sublett died January 24, 11 days before his 89th birthday. Sublett, who had been Ewing's right hand man during many an administrative battle on behalf of the art department, mentored his son, Eric Sublett, a long-time agitator among Knoxville's creative community and a painter and videographer of distinction. He also was a benefactor to Knoxville's leading singer-poet, RB Morris. "When he opened Sublett Gallery in the 11th Street Artists Colony on the World's Fair site, he helped usher in a whole new generation of artists that have remained a vital part of the scene," according to Morris, who was sort of the artist-in-residence of the gallery that Eric managed. Sublett Gallery, where many "underground" art events were held, existed only a handful of years. An espresso house inherited the location, retaining a hint of the old ambiance.
Besides Sublett, the Seven were bigger-than-life UT art department head C. Kermit "Buck" Ewing, Richard Clarke, Walter Hollis "Holly" Stevens and Joanna Higgs. Robert (Bob) Birdwell, currently living in Powell, and Phillip Nichols, father of well-known local musician "Smokin'" Dave Nichols, of Florida, are the last survivors of the group. Nichols, the only sculptor in the group, was such a latecomer that he refers to them as "the Knoxville Six."
"I think the Knoxville Seven thing was a tongue-in-cheek protest on the lack of places to show and the dearth of people that actually knew anything about the sensibilities of artists. What we have now would have astounded those guys. Back then, the Dogwood Arts Festival was really the only show in town and was forever being chaired by people with very little (arts) experience. The Seven were serious artists, the best around, and they were loading those station wagons full of interesting art and going to any art fair around. Someone in the group would win the prize, more often than not," Sublett says, remembering being along for that mystical, moonlit caravan. "I was just 12 and for a bright-eyed, swivel-headed kid, it was a magical moment."

Carl Sublett came from hardheaded Kentucky Huguenots. His father, Tandy Taylor Sublett, was a blacksmith, toolmaker and electrician in the coalmines. Even in that hardscrabble context, Carl managed to go through life being somewhat coddled by the women in his life. He was an only child, his mother doting on him as much as possible during the Depression. His father's make-do spirit was passed along to Carl, setting the groundwork for the ethos that would propel him to worldly renown as an artist. While working on the factory floor cutting propellor shafts for the B-17 Bombers and the Forked-Tail P-38 fighter planes, in the Hartford, Conn. aircraft industry, Carl met and fell in love with a co-worker, Helen Davis, from an old Maine family. It was through her that the Kentucky boy would establish a lifelong love of the Maine coast that would figure so prominently in his work as a professional artist. Sublett joined the Army when the U.S. entered World War II. As a rifleman, he saw heavy combat throughout the Italian campaign and was listed as missing in action after a counterattack by German troops nearly wiped out his unit. Besides wielding an M-1, Sublett always had his sketchpad handy; his scenes from a foot soldier's point of view soon made it into army publications. It was his odd fortune that the Army docked him the "missing" time and Sublett had to remain in Europe for the Occupation. He chose to spend this time studying art in Florence.
After discharge, Carl and Helen settled in Bristol to be close to Carl's father, who died in the hospital there in 1946. By then, Sublett's skill was getting him work as a cartoonist with the Tri-Cities newspapers.
Sublett came to Knoxville In 1954 to work as a commercial artist. He became a full-time faculty member at the University of Tennessee in 1966 as an assistant professor under art department founder Ewing. He retired in 1982, but he never stopped painting and produced thousands of watercolors over a lifetime.
Eric gives his mother credit for much of his father's success. Just as his mother had handled the nuts-and-bolts of running that household, so did Helen manage the family with Carl. "He never had any Idea about money. They were married for 63 years and he would have been totally lost without her guidance. In his later years, he fell victim to the Publisher's Clearinghouse phenomenon. I guess he spent thousands of his hard-earned savings on this ridiculous shell game. It probably cost him his dream of going to Ireland that they always talked about and never got around to doing."
"I think his style was to be himself and in that, he was a role model to his students and fellow artists that we all tried to emulate," Retired art professor F. Clark Stewart told a memorial gathering in March at the Laurel Theater a few weeks after "Sub's" death. Stewart was among a stream of former students, kin and colleagues who talked about their relationship with the gentle, supportive professor. "He left us an incredible body of work as his legacy. But, he also left us his character."
Sublett was a painter who relished maturing in the isolation of Tennessee and Maine. Both places gave him different spectrums of light—that most fundamental element to a graphic artist. Frederick C. Moffatt, professor emeritus in art history, reading from his essay "Sublett, the Artist" (for a Tennessee State Museum exhibition in 1984), told the group "he was satisfied to forge his own versions of tradition," and became an avid experimentalist, taking the heuristic—trial and error—approach to mastering his art.
More telling about the man's interior life was an anecdote Eric told the assembly about a night at the family's vacation home in Port Clyde, Maine. Eric was enjoying a few puffs of marijuana when lo and behold, the Northern Lights put on a display. "It took me a while to figure out that that's what it was …" pausing for laughs from the crowd. The son returned up to the house where "Dad" was watching The Tonight Show. "He's gonna know, he's gonna know," the younger Sublett fretted, still knowing he had to share the aurora borealis with his father. They watched together for almost an hour until the lights faded. After they returned to the cabin, Eric hungrily dove into a peanut butter sandwich. But not before his father made him flinch by making a monster face. Goofing on his son, letting him know everything was cool.
"Sub" would die in his beloved Maine after years of declining health at the home of his daughter, Carol Colby, with whom he and Helen were living at the time.
At the memorial service, Stewart said he never heard Sublett speak harshly to a student, even one who clearly shouldn't be trying to pursue art as a career. Nor did he speak negatively of anyone, for that matter, in or out of class. That gentleness of spirit is reflected in a life well spent, like the long, graceful fade of a watercolor sunset.
The UT Downtown Gallery, 106 S. Gay St. (next to the Emporium building), hosts the Carl Sublett retrospective, "Image Tracks," through June. Curated by Eric Sublett, the selection is a representative portion of Sublett's realist and abstract work over 75 years. Coincidentally, the Knoxville Seven are celebrated as part of the Knoxville Museum of Art's "Higher Ground: A Century of the Visual Arts in East Tennessee." The new, permanent installation includes works created during the '50s and '60s by these "progressive artists … who transformed and energized the area's artistic climate.")